Das Reich was the first field division comprised entirely of SS personnel and of created on
created on October 10th 1939.
The infantry of this division consisted of the :
Verfugungs-Standarten: SS- Standarte 1 "Deutschland" ,
SS-Standarte 2 "Germania" and
SS - Standarte 3 " Der Fuhrer"
Its official title was
SS- Standarte V.T.- Division (mot)
.
Paul Hausser was its commander.
The
SS-Verfugungsdivsion took part in the drive towards Rotterdam in May 1940 and in France being attached to Panzergruppe Kleist in its davance to paris , by the end of the french campaign it stood on the Spanish frontier.

On 3rd December [Regiment /i]Germania[i] was transferred to join other Waffen SS units which formed the new SS division

Germania

.
(The other units being the Regiments
Westland , Nordland
and SS- Arillery Regiment 5.)

To compensate for the loss of
Germania
an SS- Totenopfstandarte was alloacted to the

SS-Verfugngsdivision

and designated SS-Infanterie Regiment 11.

On 3rd December 1940 the unit changed its name to [/u]SS-Division Deutschland[u].
To avoid confusion with the existing regiment of the same name in January 1941 it was designated the name

Das Reich

.

In April 1941 Das Reich took part in the invasion of Yugoslavia and the assult on Belgrade which surrendered to an assult group led by Hauptsturmfuhrer Klinenberg who was awarded the Knight's Cross for his part in the action.The division then transferred to Poland for the coming invasion of Russia which was launched on 22nd June 1941, the division took part , attached to Army Group Centre.
It fought with distinction at Smolensk and the abortive attempt to take Moscow "Operation Typhoon" , it penetrated to within a few miles of the capital.
In March 1942 it was withdrawn having fought through the cold and bloody defensive battles in front of Moscow , having lost over 11,000 men.
Transferred to france it was refitted as a Panzer- Grenadier Division.
( Its artillery section and two mixed battalions remained in Russia rejoining the new formation in June 1942.).
In November 1942 they took part in the attempt to snatch the French Fleet at Toulon.

In early 1943 Das Reich became part of the 1st SS Panzer -Korp which attempted to stall the Soviet winter offensive in the wake of the Stalingrad debacle.
Mansteins successful counter attack destroyed the russian forces which had over stretched themselves , recaptured much lost and traded ground making safe the Southern sector of the front , retaking Kharkov - only the Kursk salient remained as a thorn in the German side.


Das Reich took part in Citadel the long delayed and badly timed summer offensive to pinch out the Kursk salient.
The attack was a failure and when the Allies landed in Italy the forces which should have been there to meet thme had been wrecked chasing a lost cause in Russia.

December 1943 saw an advacned staff being sent to Stablack in East Prussia with a view to establishing Das Reich as a Panzer Division.
In early 1944 portions of the Division were transferred to training grounds near Borbeaux whilst the remainder of the division was retained in the east as [i]Kampfgruppe Das Reich
( unofficially known as
Kampfgruppe Lammerding
.
In France the division was responsible for hanging 99 people in the French village of Tulle.
( See "Das Reich" by Max Hastings)
In April 1944 Das Reich fought to relieve German forces encircled in the east ( Korsum), following which LSSAH went to Belgium and [iKampfgruppe Lammerding[/i]went to Southern France both to await the impending invasion from England.
April 44 saw the remainder of the division still in Russia designated as
Kampfgruppe Weidinger
, this battlegroup fought in the retreat to Tarnopol.
June 44 saw Das Reich on the move through France towards Normandy to engage the successful landings in Normandy - the advance was delayed by a well orchestrated series of attacks on soft skin vehicles and on bridges - the divsion had no tank transposrters so all armoured vehicles had to move on their own tracks - the division was in effect using supplies intended for battle to get to the Caen.
In reprisal for the death of an oficer the division destroyed the village of Oradour sur glane , shooting the men and blowing up the women and children in the village church , those who attempted to escape were shot.
( James Lucas's book "Das Reich" will be of absolutely no help in giving any information on this crime - again see Hastings for details).
4th Panzer -grenadier Regiment
Der Fuhrer
was responsible, by the end of the war most of those who took part had in turn been killed.
Das Reich was deployed North of Coutances and St.Lo and along the Villers Caen Road in attempots to contain the British and American forces pressing in these sectors, at this time Christian Tychsen the Divisional Commander was killed , american soldiers stripped his unifrom and body for souviners - not having seen such a highranking officer before - as a rsult his body wehn it was buried was unidentified.In the early 1970's his body was exhumed and identified.
Threatened by superior forces the Division retreated via the Falaise pocket crossing the Seine at Roun in late August.
Transferring to Dietrichs 6th Panzer Army , taking part in the mission impossible attack in the Ardennes , held in reserve it was attached to Haso von Manteuffel's southern Army attacking at St. Vith.
In sight of the Meuse river it was halted having out ran its supplies , losses were heavy and the quality of replacements was no longer there.
Reinforced the division was sent to Hungary tasked with relieving the surrounded German forces in Budapest , the mission was doomed to failure from the outset.
From March through to April the remnants of Das reich fought a series of rearguard actions into Austria elements of the division being scatteed from as far away as Dresden , Vienna and Prague.
In May the surviving units surrendered to the Americans.
Divisional Commanders.
Oct. 1939 - Oct 1941 , SS Gruppenfuhrer , promoted to Obergruppenfuhrer and General der Waffen -SS Paul Hausser.
Oct. 1941- December 1941 ,Oberfuhrer , promoted to SS- Brigadefuhrer und Generalmajor der Waffen -SS Willi Bitterich.
Jan 1942 - April 1942 ,SS- Brigadefuhrer und Generalmajor der Waffen -SS Matthias Kleinheisterkamp.
April 1942 - Februsry1943 , SS-gruppenfuhrer und general leutnant der Waffen -SS Georg Keppler.
February 1943 - April 1943 , SS- Oberfuhrer Herbert Ernest Vahl.
April 1943 - November 1943 ,SS-gruppenfuhrer und Generalleutnant der Waffen -SS Walter Kruger.
December 1943- July 1944 , SS-Oberfuhrer , promoted SS-Brigadefuhrer und General der Waffen -SS Heinz Lammerding.
July (26) 1944- July (28) 1944 SS-Obersturmbannfuhrer Christian Tychsen. ( Killed in action).
July 1944- December 1944 , Ss- Standartenfuhrer Otto baum.
December 1944- January 1945 , SS-Bridagefuhrer und General der Waffen -SS Heinz lammerding.
January 1945- February 1945 , SS-Standartenfuhrer Karl Kreutz.
March 1945 - April 1945 SS- Standartenfuhrer Rudolf Lehmann.
April 1945 - May 1945 SS-Standartenfuhrer Karl Kreuz.
Useful rading on the division.
"Uniforms , Organisation and History of the waffen SS Vol 2." by R.J Bender and Hugh Page Taylor. ( basis for much of the above).
Max Hasting " Das Reich" - deals largely with the Divisions movement through France in 1944 and subsequent reprisal actions taken against civilian populations.
"Knights of Steel Volumes 1 and 2" ( Structure, Developments and Personalities of 2nd SS Panzer-Division Das Reich" by Mark Yerger.
SS- Sturmbannfuhrer Ernst August Krag" Mark Yerger.
"Waffen SS Commanders Volumes 1 and 2" By Mark Yerger.
"Uniforms of the Waffen SS" by Michael Beaver.
http://www.dasreich.ca/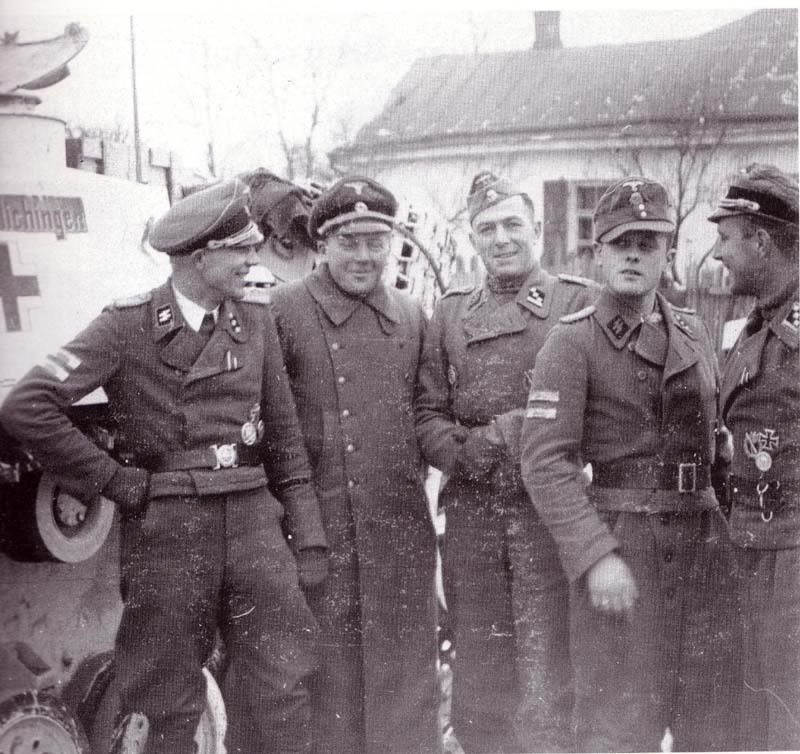 Above , one of my favorite photos of Das Reich oficers - what appeals to me is the comradeship and the confidence Wolfgang Otto , the youngster with two tank destruction strips - soft cap looking towads the camera.
Almost all the officers in the photograpgh went on to become hodlers of the German Cross in Gold.
From left to right. Hermann Bolte (2/7/44) , Friederich-Wilmelm Graun , 16/9/43) , Ernt Krag, Wolfgang Otto (12/3/44) and Hartmut Braun.
The Stug in the background is krag's command vehicle.
Krag wears the German Cross cloth version.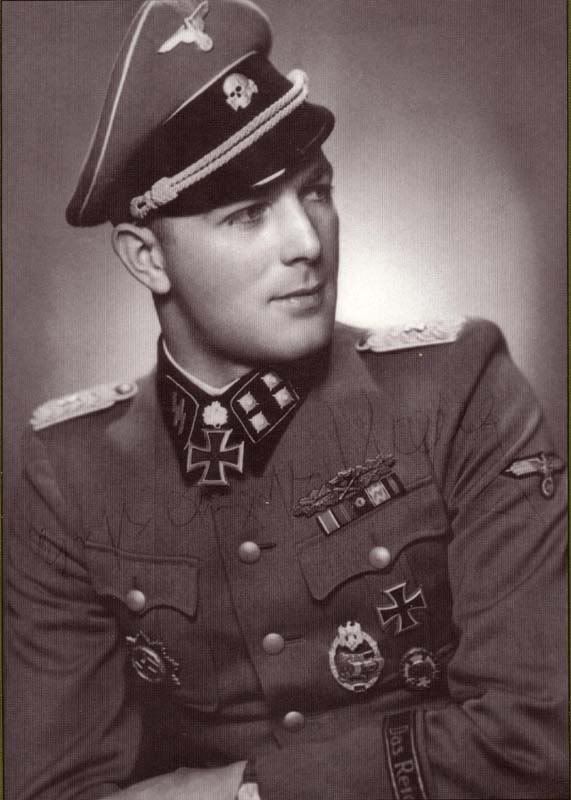 Above a portrait photo of Krag after his having been awarded Oakleaves to his Knight's Cross.
Christian Tychsen , having been awarded his Knights Cross , Otto Kumm and Vincent Kaiser.
This photo taken after the post Kharkov award cermony.
Tychsen later recieved a serious and disfiguring wound between his lip and chin.
Kaiser cuts an impressive figure , Dk in Gold , Knight's Cross , Iron Cross first Class, infantry assult badge and four tank destruction badges.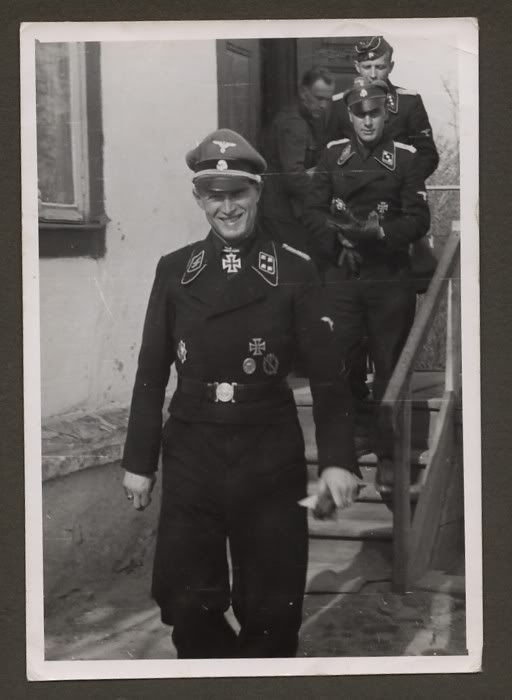 A last photo of Tychsen , a career soldier.