Ok, second part of the post, post war telo's.
EARLY POST WAR
This type is really early, possibly late fories to early fifties. It still has the mackeral pattern, but the colours are brighter. It is constructed the same way, but it has a different back. It is dyed with an orange brown colour, and has no makers marks, except a print applied to the strip, all around the edges. It reads CHROMO COTTONE.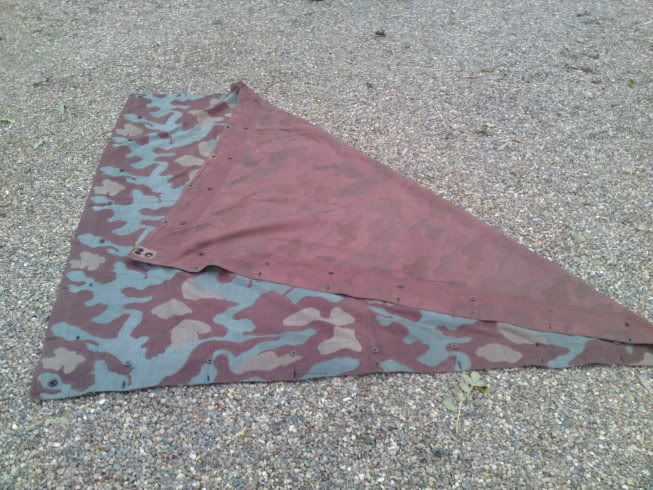 Orange-brown backing dye
Here are other examples of post war ones
60'S ONWARDS TELO TENDA'S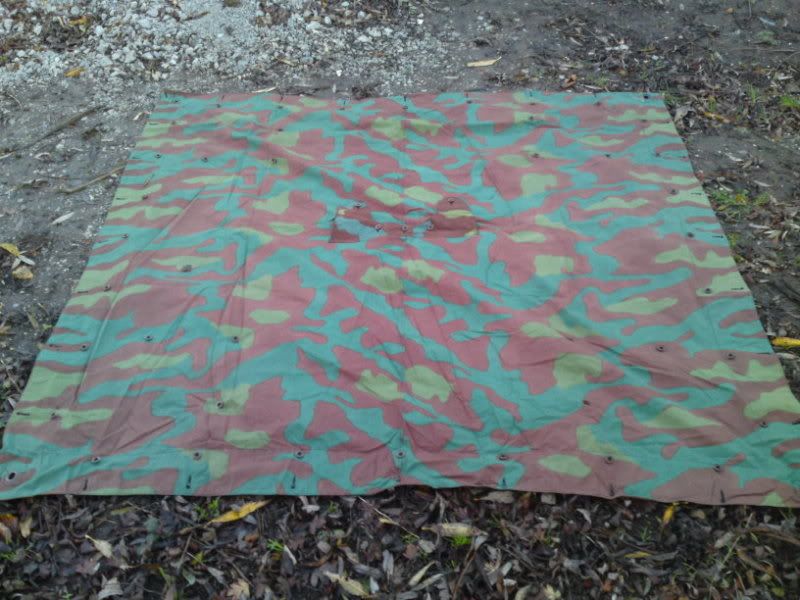 And here is the back of one of them..
An orangy brown hue to the back.
Along with the backing colour, the post war telo's do ont have the classic mackeral pattern, and the vast majority have metal fittings and rivetted buttons. Construction is similar to wartime, but with those elements.
So, as Pointers, here are four general rules to follow.
1 - Pattern. Look for the mackeral pattern on the centre seam and edges.
2 - Colour- The wartime telo's are drab/dull in colour. The green element is a good indicator. It must be a grey green in colour, closer to grey.
3 - Fittings. All wartime have woven grommet holes and sewn on buttons.
4 - Backing colour. Wartime versions do not have the orange brown colour applied. They are left bare.
If you follow these four rules, then you shouldn't go wrong. There are anomilies in this. One wartime version we had has a backing colour, but it is chocolate brown, not orangy, and as it was made in 1933, it was made a little more carefully. It featured 'proper' button holes, not the regular rectangle ones you usually see and was constructed far more carefully than the wartime production ones. However, if you're in doubt, don't buy it.
I hope this helps.
Neil